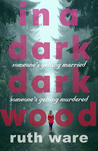 In a Dark, Dark Wood by Ruth Ware
My rating: 5 of 5 stars
** I would like to thank Random House UK, Vintage Publishing for allowing me the copy to read and review **
This makes for compulsive reading.
Lee is a writer, she lives on her own.
Likes to run.
She gets invited out of the blue to an old friends hen do, from Flo the Matron of Honor.
Something happened between her old friend and herself.
They have not seen each other for around 10 years.
She contacts another friend to find out if she has been invited too. And they both decide to go together.
The place they have to stay at where they are meeting up is a bit 'out of the way', and only a couple of other friends accepted the invitation as it was short notice.
You wonder where her friend is when they arrive, there is Flo to welcome them in.
You also wonder what happened between herself and her friend all those years ago.
This is not just a hen party, clubbing and pubbing, no this is being held within the confines of this home.
Flo's aunts home.
Her aunt goes away in the winter leaving this home empty.
Emma soon gets to meet up with Claire again.
We find Claire and Flo an odd couple of friends and left wondering what is between them too.
Flo is always in Claire's shadow, right to wearing the same clothes at times, what's that all about.
Years ago Lee was in Claire's shadow always feeling the lesser of the two.
Returning after 10 years seems to throw them right back in time to how is used to be. Except, each of them have their own lives now.
Another friend there is Mel. She has a 6 month old baby she has left behind with the Father. But she realizes that she may have left her child too early. She's never left her baby before, not even for a night. And constantly wants to keep in contact by phone with her husband to see how things are going. But the telephones do not always work, out in the remote, and cell phones are even worse.
Thomas is another one there.
He is gay, and he has a partner, we learn that he had an argument with him before coming away.
We jump back and forth between the events and Lee being in hospital.
What lead up to that?
Lee cannot recall anything, zilch of that night.
Then it jumps back to the house again and the events that went on leading up to it. It does this several times with ease.
This is a great debut novel. Its kept my attention and my inquisitiveness going from start to end.
When the secret came out, I was gob smacked. It all fitted together.
I can HONESTLY say there was one scenario that entered my mind, I wasn't too far wrong, but needed more to build on my idea.
The last chapters left me in no doubt at all about how each character fitted to each part.
My full attention was on the latter chapters wanting to know and eager to know how this was going to end.
I LOVED how this author wrote and kept teasing me, kept me on the edge of my seat. She writes with a confidant flair and each descriptive word had meaning, allowing you to be sucked in and devour every word.
Strong plot. No dips of pace.
I wasn't bored or distracted once, quite the reverse.
View all my reviews