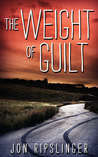 The Weight of Guilt
by
Jon Ripslinger
My rating:
4 of 5 stars
I found this to be a very powerful and moving story.
John and Riley are around the bonfire with other friends, Riley has been drinking but John has this rule, he never drinks before a wrestling tournament.
All he wants to do is take Riley home and tuck her safely into bed.
On the way home there is an awful accident in which Riley is killed.
At the opening of this read you are thrown, literally thrown right into it. The collision that happened in the back is a collision course you too find yourself on with John after he finds his beautiful girlfriend Riley is dead, and he blames himself.
If only....
John is a High School Senior and the prom is coming up. Megan is a popular girl and she wants to tease John out of his depressive state and show him, life really does go on and so he agrees to go with her to the prom, against his better judgement.
HE just knew something was about to happen, and it did, there was an ugly row between Megan and her ex boyfriend. They leave together. John makes it home, but the very next day Megan is missing.
Four days later her body is found. John is being framed for Megan's murder.
There is another voice within this book, her name is Charley and you will meet her in alternative chapters between John's.
This is a very well written book, although this is meant for YA I still found myself enjoying it.
I felt sorry for John, first his home life, then his girlfriend dies in the car accident, he blames himself so he has that on his shoulder weighing him down THEN he is being framed for Megan's murder. He just can't stop getting into trouble.
I have to thank Red Adept Publishing for my copy.
You will be able to follow the tour soon on my promotion blog:
http://suewardpromotions.blogspot.co.uk/
My review blog is here:
http://sueandherbooks.blogspot.co.uk/
Driving home from a bonfire party, eighteen-year-old John Hawk crashes, killing his girlfriend, Riley. Bullied and tormented at school, and crushed by his guilty conscience, John transfers to a school on the banks of the Mississippi River, where he attracts the eye of the principal's daughter, Megan. Though he's reluctant, she convinces him to be her prom date. The morning after prom, Principal Jones reports Megan missing. Four days later, her body is recovered from the river, and John becomes the prime suspect in her death.
Charley Cotton, Megan's best friend, knows that Megan had a secret, but she doesn't trust John because of his past. John is desperate to avoid adding to the shame he carries for Riley's death, though—it's destroying his life. With Charley's help, he learns that others in Megan's life had a motive to keep her quiet. But every effort they make to uncover the truth edges them closer to a desperate murderer with everything to lose
View all my reviews