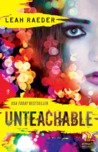 Unteachable
by
Leah Raeder
My rating:
3 of 5 stars
Here we have a young girl who seems quite 'out there' [to me] at the very start of this read I was shocked by her behaviour. I can understand how the teacher and her met and how they had a 'fling' but it was quite perturbing how it was carried on.
OK she may have been 'old enough' at 18 years of age, but her teacher? I think there are some boundaries that shouldn't be crossed.
That being said, I see there are many favorable reviews, I just find it a bit lewd because bridges were crossed that shouldn't have been.
I did read the entire book, and yes "I get it" the story being told was excellently done, just not the sequence of events that happened 'after' the teacher knew who she was.
I've given this a 3 star rating because my thoughts are personal to myself and the author did portray it well, just that the 'love story' between a student and teacher was off putting.
You are going to say...well, that's what the blurb said it was about....
Yep you are correct, but I thought it was going to be more moral in that is was wrong, or he left teaching to be with her or waited until she left.
The reflection is not upon the author, its upon me reading a storyline that I just couldn't stomach when it reached the 'knowledge' of each other on who they were and didn't curb it.
I was given this to read and review by Atria Books via Net Galley and would like to say a thank you for allowing me to read and review this book.
Maise O'Malley just turned eighteen, but she's felt like a grown-up her entire life. The summer before senior year, she has plans: get into a great film school, convince her mom to go into rehab, and absolutely do not, under any circumstances, screw up her own future.
But life has a way of throwing her plans into free-fall.
When Maise meets Evan at a carnival one night, their chemistry is immediate, intense, and short-lived. Which is exactly how she likes it: no strings. But afterward, she can't get Evan out of her head. He's taught her that a hookup can be something more. It can be an unexpected connection with someone who truly understands her. Someone who sees beyond her bravado to the scared but strong girl inside.
That someone turns out to be her new film class teacher, Mr. Evan Wilke.
Maise and Evan resolve to keep their hands off each other, but the attraction is too much to bear. Together, they're real and genuine; apart, they're just actors playing their parts for everyone else. And their masks are slipping. People start to notice. Rumors fly. When the truth comes to light in a shocking way, they may learn they were just playing parts for each other, too.
Smart, sexy, and provocative, Unteachable is about what happens when a love story goes off-script.
View all my reviews