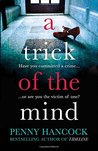 A Trick of the Mind by Penny Hancock
My rating: 5 of 5 stars
What an absolutely absorbing read! This gripped me, this kept me turning pages, this had me at first chapter.
Here we have Ellie, she has inherited a house on the sea front in Southwold. How excited she is, sad that her auntie has died, but excited to have a new life experience open to her. She has the same talent as her aunt, they both paint. Ellie is a school teacher, but she also would love to take her talent as an artist to another level.
Whilst travelling down a country dark lane on her way to her aunts house for the first time since she had died she thuds into something. Because she has these 'ticks' [like tapping things three times, or twisting around twice, that kind of thing] she is arguing with herself that did she really knock someone over? was it an animal, she should go back? She stops her car but there is no damage. She puts it down to a trick of her mind.
And so this adventure begins. It takes you into places you didn't imagine, it brings out things that you just didn't think about. All I know was, at the end when something was revealed it left me GASPING and saying WHAT IN THE HELL, what a clever author this is!!! I want to read more of this authors books, if they are anything like this one.
I just love, ADORE and need to RAVE about how dam good and clever this story is. I don't know how some of these authors dream these great stories up, but all I have to say is KEEP 'EM COMING.
Getting inside Ellie's mind sometimes took a bit of doing, I was asking myself, would I have done that? Well, we can never judge what we would do in any situation unless we ever find ourselves in it. Then we can judge.
Brill-i-a-n-t!
I would like to thank Simon and Schuster UK Fiction for granted me this wonderful thriller via Net Galley
Have you committed a crime ... or are you the victim of one?
Driving down to the cottage in Southwold she's newly inherited from her Aunty May, Ellie senses she is on the edge of something new. The life she's always dreamed of living as a successful artist seems as though it is about to begin. So excited is she that she barely notices when the car bumps against something on the road.
That evening Ellie hears a news flash on the radio. A man was seriously injured in a hit and run on the very road she was driving down that evening. Then Ellie remembers the thump she heard. Could she have been responsible for putting a man in hospital? Unable to hold the doubts at bay, she decides to visit the victim to lay her mind to rest, little knowing that the consequences of this decision will change her life forever.
View all my reviews