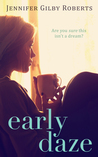 Early Daze by Jennifer Gilby Roberts
My rating: 3 of 5 stars
Jess little daughter is born early, very early, much too early and ends up in the neo natal unit.
We follow Jess as she learns all the emotions of becoming a Mom, not only that, she had a lot more weeks to go, so motherhood has come too early! She also has to bond with her baby via holes in a cot with a little baby who she cannot touch because of her delicate skin. The emotions that surround all of this are immense in her.
There are plenty of fun parts though especially when she is excreting some milk for the baby, of course the first parts are just dribble and have to be sucked up in a little syringe. When she asked her partner to help, he's reaction was truly a man!!!
Jess Mother I thought was very mean when she said that it was something that Jess has done to bring on the baby too early. Not a nice thing to say and we find Jess justifying herself to her Mom and giving her the statistics of babies who are born early.
This is not a doom and gloom book, its quite uplifing, but full of emotions along the way.
I would like to thank the author Jennifer Gilby Roberts for allowing me to read this book.
Thank you.
What happens when nine months suddenly becomes six?
Life has always gone smoothly for Jess Jackson, but then she got pregnant and it wasn't just her breakfast that started going down the pan. And now her baby has "fallen out" before she's even started ante-natal classes.
Suddenly, she's sucked into the bubble of the Neonatal Unit, where tensions run high and the real world feels very far away. She has a new home, new routines, new friends and even a new crush, just when she feels most distant from her old life and fiancé. Add in sleep deprivation, hormones, worry and the fact that she has more contact with her breast pump than her baby, and her neat little world is in grave danger of falling apart.
The third trimester is never easy, but it's a whole lot harder when your baby's no longer inside you.
View all my reviews