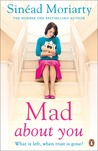 Mad About You by Sinéad Moriarty
My rating: 5 of 5 stars
I have to give this top marks. Its a fabulous book.
There is so much happening in this book, and so all ties in together nicely.
Emma and James have been through so much together, fertility problems. They now have a lovely sweet daughter and an adopted son. They adopted him from an orphanage, he wasn't well taken care of and hes tiny in his stature but I love us Moms, how we make sure our children have confidence in themselves. And that is exactly how Emma is with her children.
They have had to undergo an upheaval, James lost his job, and had now had to move to London from Dublin their hometown to secure a coach job. He is very focused as he wants to give a good impression.
Emma is feeling the strains of moving into a new town, it seems the area they are living in has a few snobs, having botox, having their nails done, spending money on their children on a packed agenda of after school activities and making excuses for their behaviour. Emma is well out of her comfort zone.
Babs, she is her sister, what a character! I loved Babs to bits. She was the host and star of the TV show that give make overs to women, she is blunt in her approach and many times I laughed out loud at her honesty. Babs life and her experiences all come out in the book, chapter by chapter alongside Emma and James life.
Then there is Lucy and her husband, her little boy, it all mixes up nicely to become one enormous gripping unputdownable read.
Babs make up artist leaves, this makes an opening for Emma who has the qualifications to jump right in and work alongside her sister.
Now they need to find a nanny, someone to look after the kids, wash, iron and do some cooking. They find Claire, she's a timid, shy young girl, but seems just the sort of person that would interact with their two children.
She looks after them very well, and cooks well, everything seems to be going along nicely........
Until, text messages come James way, sextexts messages, then later to Emmas's phone, then things start arriving in the post.
Emma is a little unsure of herself anyway, so this is all she needs. She sees James as an attractive middle aged man, sexy, and although deep down she knows he wouldn't stray.........or would he.
Its got a lot in the book, its family, its friendships, its a thriller of sorts, its conversational. I just LOVED IT.
I would like to thank Penguin Books (UK) for allowing me to read and review this book via Net Galley.
Emma and James Hamilton have weathered lots of storms in their ten-year marriage. From the heartbreak of infertility, to the craziness of then becoming parents to two babies in one year, to coping with James losing his job, somehow they have always worked as a team.
However, the pressure of moving from Dublin to London for James's new job - away from familiar surroundings and the family Emma loves - puts them under stress like never before. So when James starts getting texts from a stranger - texts that show startling insights into their lives - Emma is not sure what to think. She is far from home, isolated and before long finds herself questioning everything about their relationship.
Maybe those texts are telling her the truth and the life she believed to be solid and secure is just a mirage. Somehow she has to get a grip, but how can she do that when a stranger is set on driving Emma out of her home and her marriage?
View all my reviews