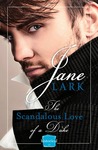 The Scandalous Love of a Duke by Jane Lark
My rating: 4 of 5 stars
After reading Jane Larks previous books I had to read this one didn't I?
As I worked my way through this series I found not only the book getting better and better but the writing getting better and better, not that it was bad in the first place, I think it was more ME.
I hadn't read historical fiction for sometime and said I would look at this series. I was granted this book from HarperCollins UK, HarperImpulse via Net Galley and I have also spoken to the author on Facebook which was nice. I see and follow her posts quite a lot.
She's a very popular author and I can see why.
I loved I FOUND YOU which was the very first book I had read by her, so I was a bit taken aback to the historical fiction side of things but I found myself quite enjoying the heroine and the nasty Duke, although we did find out why he was such a pillock.
Loved it, highly recommend it if you are into this fiction, mind you, even if you are doubting reading this genre, I would still urge you to have a read of this, I liked it, a lot.
Isolated by life and choice, John Harding, the Duke of Pembroke, sees an angel in a pale mauve dress across a ballroom and is drawn closer.
The wheat-blonde hair escaping her dull dove-grey bonnet caresses her neck and lures his eyes to the spot he'd most like to kiss.
Then as if she senses his gaze the stranger turns and looks at him…
"A rush of pain and longing spilled from Katherine's heart into her limbs. It was so long since she'd seen John but her reaction was the same as it had been more than half-a-dozen years before. She loved him, secretly, without hope, but a chasm of years and status stood between them."
THE SCANDALOUS LOVE OF A DUKE is book three in Jane Lark's Kindle best-selling Regency romance series
View all my reviews