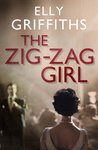 The Zig Zag Girl
by
Elly Griffiths
My rating:
4 of 5 stars
I am a bit late in coming to the table to read this one.
But I am glad I got around finally to reading it, or should I say "listening" to it as I listened to it on Audio today.
I was lucky enough to get this from Quercus Books via Net Galley, but seeing as I have it on audio I decided to listen to this today whilst doing other chores.
We have Edgar, who is the DI.
And Max the magician.
Both of them know each other from a past that later comes to light as Edgar is reporting back to his Sergeant.
Its based around the seaside town of Brighton, where we are not far from Eastbourne and surrounding areas.
So a resort where there are Theatre's and such and boarding homes where actresses and actors and those on the stage could be 'put up' for the duration of they're stay there while preforming.
A body is found. But its an usual case because this body comes in three parts, and each is inside a box. These boxes remind Edgar of a trick, where they lay a person inside and they are split, then knives are put between the splits appearing that the person has been chopped into three parts.
Except, this is no usual magicians trick box, the middle one that holds the torso is slightly bigger than the rest, what is the reason for this? Well, you will need to find out.
The woman who is pretty in appearance even though dead.....
who is she?
Max the magician is not happy to be involved with the Police, but he is happy to chat to his old friend Edgar who wants to ask him questions.
Edgar goes to a show, watches the 'turns' and then his friend Max preforms his 'turn'.
After the show Edgar goes backstage, its not the brightest place to be, its dusty, its hectic, girls rushing around in their feathered costumes and it can appear to be manic. Then he spies his friend Max, so he and him share a whisky together. He is surprised that Max has a dressing room all to himself as others have to share, but Max is well known, and Max is not humble enough to keep quiet about that!
Edgar fishes around and asks Max about some of the magic acts, at first Max isn't wanting to reveal anything. But then he does.
One thought comes into Edgars mind, why hasn't Max got a female working for him in the act.
It was a very interesting case unfolding as I read.
You need to remember its around the turn of the 1950s when the TV is just about becoming popular and peoples tastes in being entertained are changing.
This reminded me of an afternoon show, a whodunnit and why. Fast paced at first, halfway was good but did dip a little, however the ending was good and well worth keeping with.
All in all, a very enjoyable plot and forward moving story.
View all my reviews