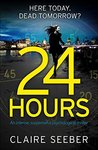 24 Hours: An intense, suspenseful psychological thriller by Claire Seeber
My rating: 3 of 5 stars
Love the cover.
Loved the blurb.
But when I actually started to read it, it was pretty hard going. The premises of this book is great, but the back and forward and the different things that kept popping up left a reader like me confused where I just wanted to give up......I didn't though, because I have a lot of respect for this author she writes really well and I have read one other book by her which I enjoyed, so I deemed it that I should give the benefit of the doubt and at least carry on.
All in all, with a few alterations for me, this would have been good.
It just was so choppy and confusing at times. The flow between the chapters with other "voices" saying their bit, it just didn't all tie in well.
This did disappoint me though, because the Intense, suspenseful psychological thriller....advert....got me all charged up.
* thank you to Bookouture for the chance to review this book *
View all my reviews