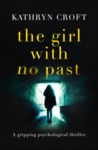 The Girl With No Past
by
Kathryn Croft
My rating:
5 of 5 stars
This
is one
amazing
read.
What a journey I have been on with Leah Mills. Leah Mills is now a young woman living with an horrendous burden of a past she was involved in when younger. A boyfriend she once had.
Adam
the lad with the "attitude" who came across to me as the 'poor little rich kid' who endeared himself to Leah.
Then there was her friend and her boyfriend.
Coming up to date in present time, we have Leah who is living in a little flat, with her books as her friends and her little job at the library which is her sole main 'outlet' called
Life, her Life, Leah's life
We go back and forth in time and present, at first I was wondering what was happening, then once I got the gist of how this author was working this story, I relaxed and got 'right into it' hook, line and sinker.
This has enough twists in it, it can tie you up in knots.
All the way through, we have questions, so many questions going around in our heads, this author was very clever to lead right up to the end revealing all.
1. Why is Leah living a lonely life away from her friends and her Mother
2. Why doesn't she have any friends anymore
3.
WHAT
the
hell happened
Why is everything going wrong in her life?
Whose watching her?
What happened to her friends?
what the hell is going on.....
I was saying these words so many times throughout reading this, "what's going on" "what happened"
"who happened"
....
and then I thought, OMG I do hope after all this tension and the stress level I have been under reading this, that the author makes it worth it.
Oh she certainly made it with it.
Oh yes
and with another punch toward the end for good measure.
WOW.
This was an awesome book to read. It well deserves top stars and certainly a book I would recommend and purchase for others who like books such as this.
Tense
Anxious
Breath taking moments.
I want to thank * Kathryn Croft * the author for writing such a wonderful book and to *Bookouture via Net Galley * for my copy.
What a journey.
View all my reviews