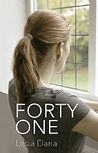 Forty One
by
Lesia Daria
My rating:
3 of 5 stars
I think this story would appeal to us middle aged bracket women who feel they are in a rut. You get to that age where all seems like drudgery and hard work and you forget about the rewards and achievements you have reached and what you have gains by experience and attained.
A "plan" is drawn up between herself and her husband, to work abroad and gain some financial security while she stays home rearing the kids and seeing to their home.
But as we know, all the best laid plans.............
I read the long blurb on this and was expecting more than what I got I think.
There is an awful lot in this book, maybe a little too much with her coming into contact with two of her exes?
One would have been enough for her to struggle over I thought.
You may enjoy it, so don't be put off with my review because on the whole is was well written but I just think with the long blurb I was expecting much more than I got.
My thanks go to Cameron Publicity & Marketing Ltd via Net Galley for my copy.
View all my reviews