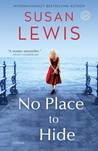 No Place to Hide: A Novel by Susan Lewis
My rating: 5 of 5 stars
Let me start by saying, I hang on every single book this author writes. I just love her work, even before I got a Kindle I was a regular reader of hers.
Now I actually years later get to understand what the importance is of leaving a review.
She just cannot write fast enough for me.
Her last book was so good, I haven't forgotten it at all, even though I have read many more books in between. I am sure this author excels herself every time; just when I think she is going to run out of stories she comes up with another brilliant plot.
Justine is the Mom of a teenage girl. Like all teens they can be up and down in their moods, but her daughter has set her heart of becoming "famous" and apparently has the talent for it.
I loved the daughter and Mom relationship between them. I thought Justine handled her daughter so well.
Justine also has a son. Ben.
Ben isn't your typical son though and is very hard work to the point of being odd which can most times be put down to being a teenager .
At the start of the book we are taken back and forth. This is vital to the story, so please keep with it as its paramount to what its leading up to.
You read what is going to happen and what has happened.
Justine has a friend Cheryl. Cheryl has problems of her own, but the two women are very close.
I loved the dialogue between them.
Going back to Ben. He is an oddball, he doesn't get along with his sister at all, and I am not sure at first who wound who up, but it was obvious towards the end.
Some of the things they said and called each other, I do feel Justine or her husband Matt should have been much stricter about and stood no nonsense.
Matt and Justine have a solid relationship. They have experienced two miscarriages.
Justine finds herself pregnant again.
Not sure how the two oldest children will take the news she is quite apprehensive as you can imagine.
Meanwhile Ben is acting odd. He's up in the tree casting stones at cows. Doesn't talk to his parents if he can help it.
There is a part of the book which takes us forward to when Justine has had the baby and gone to a part of her past where her Grandmother used to live. No longer living with Matt.
The two sections are confusing at the start, but once you get your head around it, I tell you truthfully you will be hooked from chapter to chapter like I was.
There is so much more to this book and this story than I can ever let on to you.
If you asked me if you should read it. I would definitely say YES.
** My thanks go to.Random House Publishing Group - Ballantine via Net Galley for my copy **
View all my reviews