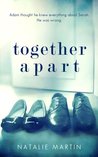 Together Apart by Natalie Martin
My rating: 3 of 5 stars
This starts off with Sarah and Adam taking a holiday abroad. Everything on the surface seems good, they are in love, they live together, nothing can go wrong, right?
.....
Not the case. Adam proposes marriage to Sarah and Sarah turns him down. No explanation, nothing.
The trouble is, they can't afford to separate due to finances.
We see them walking on egg shells around each other, trying not to get in each others way, each with their own personal innermost feelings locked inside each other.
We later have revealed that Sarah has a dark past.
My Thoughts
Although this was a nice book, pleasant enough to read, it didn't hook me to the degree that I thought it would.
I wish the book was longer to widen out and build more on Sarah and more on Adam. It seemed too compact for an indepth read.
Its rather slow paced, I had to struggle to make myself carry on reading it.
One positive thing, I do love the cover, it reminds me of a Jodi Picoult cover but in a different colour.
* Thank you to Lake Union Publishing via Net Galley for my early copy*
When Adam proposes to Sarah, the last thing he expects is to be single and heartbroken less than forty-eight hours later. But Sarah has a secret - and she's willing to sacrifice everything to keep it.
Going through a break-up is hard enough but having to live together afterwards is even worse, especially when it's a break-up neither person wants. For Adam, there are only three ways to deal with it: sex, drugs and alcohol. For Sarah, its keeping her distance and closely guarding the lengths she's gone to in order to keep her secret safe for the past fifteen years. And she succeeds until Adam finds a box of her teenage diaries.
Against a backdrop of lies, secrecy, passion and teenage rebellion, the delicate threads holding Sarah's secret begin to unravel and when her first love is brutally murdered, her past and present collide in a way that makes it impossible to keep them apart.
Adam thought he knew everything about Sarah. He was wrong.
Romantic, intense and heart-breaking, Together Apart is a contemporary love story exploring what it really means to love and be loved.
View all my reviews