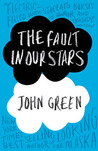 The Fault in Our Stars
by
John Green
My rating:
5 of 5 stars
No no no no no, this was so sad.
I have been trying to get around to reading some books I had bought and managed to fit this one is. I read the book then watched the Movie so double dose of red eye syndrome.
I was in bits when this finished.
SO LOVED IT
View all my reviews