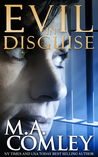 Evil In Disguise
by
M.A. Comley
My rating:
5 of 5 stars
This is an excellent read. The subject of the book is not something we want to read about, but, lets face life, its a FACT, it goes on. And I am a great believer in facing reality, if not, how do we get to change things?
When I learnt that this is a read based on a true story, it made it even more real to me. I felt so mad, of course at the husband, but I also had some feelings of madness, frustration and urgency of 'solving' this woman and her children's horrible, terrible life.
I've learnt/read/talked to enough people who have gone through this terrible situation to know that you cannot just "walk away". Here is Jenny, she has nothing. As most of these men do, they take away your independence, your dignity, your belief in yourself. You become reliant upon THEM for everything.
Next time will be better.
Next time it won't hurt so much.
Next time will be the last time.
Next time.........
You may be dead.......
What interested me, was when she did find herself released from her 'life's hell how her grown children were so blind they couldn't see, feel, or judge the atmosphere around their parents when visiting.
BEHIND CLOSED DOORS, yes, all behind closed doors.
A feeling of NOT WANTING OTHERS TO KNOW. Its all here, all here in this book.
The next thing that was outstanding was how she found herself being used by some other male. OK, in a different scene, a different sense, completely alien from what she had experienced, but in a more subtle unique way. [I am trying to say this without giving the story away!!! It will make sense when you read this book, believe me], this showed me how vulnerable someone can be. How someone can be so taken in by a kind word, a nice thought, and most of all, a feeling that YOU are helping someone else in a situation that is although different, could have the same fatal ending. That really brought something home to me when reading this story.
Luckily for me, I have never experienced this kind of treatment. So I cannot judge anyone, I cannot say what a person should do, how they should do it and why. Or stand on a peddle stool and judge their emotive actions or what appears to be their 'silliness' in not just heading for the hills and running as fast as they can. No one can judge what they have never experienced.
Yes this is a novel, but knowing its based on a true story makes it all the more, all the more special.
I have read a couple of Mel Comley's books before. I need to read all the ones I have, being a book reviewer means I am ploughing through my list.
I "met" Mel online a few years ago now when she was just starting out, it was on a discussion board on Amazon. WOW what a long way she has come from the inexperienced writer to the budding authors she is today. I can certainly see a style developing and a professionalism that is unique among some newer authors.
I am no expert of course, I am just a reader who enjoys reading, and reads a lot. That's all I can base my experience on.
I would urge you to read this, its totally different from her usual books and she's done a fantastic job. In MHO.
I would like to thank Mel Comley for allowing me to read and add a review.
Caught in an abusive marriage, Jenny Slater desperately hopes there is more to life than the lies she tells to hide the bruises. Her three children have no idea their father is a monster, and Jenny struggles with the decision to tell them of her torment, which she can no longer bear alone.
Jenny's pen pal in the States is the only person aware of the truth.
When Helen pleads with her to visit, Jenny is undecided about leaving England when her family is at odds. However, when a letter from a mysterious source arrives, seeking Jenny's help, she flies to the States. Her attempts to save another trapped soul only entangle her in another manipulative relationship.
View all my reviews