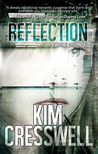 Reflection by Kim Cresswell
My rating: 5 of 5 stars
This was an absolutely over powering thriller! I loved it.
I started to read this as soon as I got it today and I just couldn't leave my Kindle alone.
The way this book starts off brings you smack bang whallop into the plot.
The guy that dies before her, bleeding out and taking his last breaths gives her only a few words, and one of them is "clone".
When she receives a letter from a friend informing her of something going on that she needs to discover, this will bring her up in the rankings, she's not so sure if she can do it. But she does.
Here starts a journey of intrigue, emotions because of the little girl involved. Its exciting!
You know when you go into a supermarket and they play fast music that makes your shop faster? its like that, the pace is fast, its furious and you don't want to stop reading. No wonder Kim Cresswell on her 2014 RONE finalist status for Reflection.
I am certainly looking forward to reading more from this author in the future.
Florida investigative reporter, Whitney Steel, has lived in the shadow of her legendary father long enough. To prove herself she needs to find the "Big" story.
She found it.
Now it may kill her.
After Whitney receives a lead pointing to the world's first cloned human, now a small child, she vows to unravel the truth. However, sifting through the facts proves to have dangerous results, including death threats and murder.
When Whitney is nearly killed, but is saved by undercover FBI Special Agent, Blake Neely, he refuses to let her get in the way of his own objective—at least not right away.
Caught in a lethal game between a billionaire obsessed with genetic perfection, his hit man's thirst for retribution, and a Colombian drug lord fresh out of prison determined to make Blake pay for his twin brother's death over a decade ago…
Can they save an innocent child before it's too late?
Faced with tough choices, with deadly consequences for many—Whitney soon realizes that sometimes a story becomes more than just a story
View all my reviews