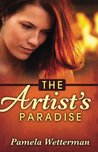 The Artist's Paradise by Pamela Wetterman
My rating: 4 of 5 stars
This was a really well written book, I enjoyed the story immensely.
Trophy wives, we all hear of them, well this is what Angie became to her husband while he was off 'doing' other things.
When she came to the realization that her husband no longer loved her as she did him, she decided to do something with her days.
She's always loved art and been involved with it in her past pre husband days, so she decides to pick up where she left off.
Here enters Professor James Turner who takes her under his wing [and other places *wink*]
But Professor James Turner is a threat, he holds things close to his chest, can he ruin what was between her husband and herself as their romance gets rekindled?
All she wanted was to renew her passion for the art.
Very well plotted story. Highly recommended.
Angie Rhodes dreams of a romantic evening with her husband, Jonathan, to celebrate their eighth anniversary. But Jonathon fails to come home. Once again, his career demands capture first place on his list of priorities. Angie faces the haunting truth. Her husband no longer loves her.
She must break free from his overpowering personality or forever remain in the role of trophy wife. Realizing her concession to forsake her personal dreams is robbing her of an independent identity. She reestablishes her pursuit of the arts.
Against Jonathan's wishes, Angie departs for an intensive watercolor study at the University of Tennessee. She soon falls under the influence of her new mentor, Professor James Turner. With demanding class rules, Turner prepares Angie for what she believes will be a successful career in the arts.
But the professor has an agenda of his own. Will she realize the threat Turner poses? Can the romance she and Jonathan once shared be rekindled in time to save their marriage?
View all my reviews